Found Pages: The Remarkable Harold Ernest ("Darcy Glinto") Kelly, 1899–1969.
Mushroom Jungle books: Notes
NEW
Note 1. References
Steve Holland, The Trials of Hank Janson, Telos, 2004
Steve Holland, The Mushroom Jungle: a history of postwar paperback publishing, Zeon, 1993
Maurice Flanagan, British Gangster and Exploitation Paperbacks of the Postwar Years, Zeon, 1997
Allen J. Hubin, Crime Fiction IV: A Comprehensive Bibliography, 1749–2000 (CD-ROM, Locus Press)
Peter Haining, "The Chilling of Hotsy; the Brit Pulps," The Classic Era of American Pulp Magazines, Prion, 2000
Richard Hoggart, The Uses of Literacy, 1957
Note 2. Jungle publishers, ca. 1946–1955
I went to Al Hubin's bibliography with my list of title-page authors and noted down the names of the publishers, whom I then looked up in his section on Publishers, coming upon the names of further authors and works while I did so.
I haven't tried to ascertain who the actual publishers behind some of the names were. For that and for other historical information, go to Steve Holland's The Mushroom Jungle and The Trials of Hank Janson. Also chapter 8 of Peter Haining's The Classic Era of American Pulp Magazines.
A respectful tip of the hat to Binyamin Zeev Immanuel, whom Steve Holland calls "the driving force behind Scion," born in Latvia in 1907 and coming to England in 1933 with reportedly only three pounds (maybe two hundred in present-day terms) to his name.
Ace—Macey
Moring—Janson, Ryland
Alliance—Hervey
Archer— Angelo, Morelli, Storme, Gene Ross, Vane, Vincent
Art Publicity—Markham
Baker—Buxton,
Beacon— Sarto, De Bekker
Bear Hudson—Firth
Brown Watson—Hickman, Reubens, Richards , Standish
Burmont—Trenton
Comyns—Ambler, Clinten, Mark Shayne, Steel
Cooper—Grey, Howard, Al Morelli
CurtisWarren—Storme
Curzon— Ellison, Firth, Lamond
Dragon—Karta, Linton
Self—Banarto, Boyd, Costello, Nolan, Lavelle
Everybody's—Toler
Frances—Capelli, Clinten, Janson, Linton, Shelton
Galliard—Trenton
Gannet—Casson, Boyce, Cagson, Casson, Diamond, Drayton, Hudson, Kellan, Logan, Rigan
Gaywood—Foster, Schneider, Trenton
Swan— Dudley-Smith
Gifford—Firth, Laye, Warren
Grammond—Roland Vane
Hamilton Stafford— Bogar, Carni, Carson, Ellison, Firth, Johnson, Hornby Hutton Kirby, Mantz, McCracken, Morgan, Rank
Hampton—Hervey
Harborough—Angelo, Morelli, Ross, Storme
Hollyfield—Macey
Hughes—Firth, Lazenby
Instructive Arts—Standish
Jssmit—Bateson, Gordon Shayne
Kaye—Capelli, Carter, Grecco, Janson, Markham, Wingrave
Ken—Carson, Dallas, Logan, Rigan
Leisure Library—Morelli, Ross, Storme
Merit—Ambler, Barnes
Milestone—Ambler, Angel, Bocca, Cairo, Dark, Delaney, Della, Drayton, Farrell, Garroway, Karta, Perelli, Sarto, Spade
Modern Fiction—Buxton, Gordon, Griff, Spencer, Hervey, Karta, Rogan, Vane, Vogel
Muir-Watson—Fearn, Karta, King, Spencer, Vogel, Zore
New Fiction—Janson
Panther—Bogar, Carson, Morgan
Paget--Mack
Park Trading--Mann
Phoenix—Vane
Progressive Press—Trenton
Robin Hood—Glinto, Prentiss
Scion—Ambler, Angel, Borelli, Bocca, Cairo, Cello, Coburn, Drayton, Hansen, Karta, Linton, Lugar, Medusa, Norman, Paradise, Perelli, Shannon, Spade, Usher,Vogel
Spencer—Baroni, Diamond, Ellison, Madison, Marlowe, Rogers
Sporting World—Trenton
Stokes—Capelli
Swan—Elliott
Tempest—Della, Lisle, Perelli
Top Fiction—Janson
Turton—Janson
Universal Publishing—Bogar
Ward and Hitchon—Janson
Warren—Baroni, David, Max Gordon, Brett Vane, Winter
World Distributors—Dale Bogard, Rod Callahan
Note 3. The Leisure Library
In Roland Vane's Pick-Up Girl (1952) there's "A Message to Our Readers" from Lewis Thompson, Editor.
THE LEISURE LIBRARY series are completely new books never previously published in the United States in any form whatsoever. Twice a month we will bring you two books—one, a real true-to-life hard-boiled gangster story, the kind that you have been looking for; the other, a spicy (1952) romance that tells all in a way never before available.
Books from the Leisure Library are written with all the graphic detail that makes the reader actually relive the scenes described. You will really feel that you were there….
Among our authors—published by no one else in America—are Jules-Jean Morac, Roland Vane, Spike Morelli, Michael Storme, Paul Renin, Tony Angelo and Pierre Flammeche, to name but a few.
According to Peter Haining, several British publishers made their products seem more authentic by putting an American price on the front cover. I had better therefore say that the following were among the putatively New York-based Leisure Library offerings.
A Corpse Spells Danger, Michael Storme
Amorous Adventures, Roland Vane
Bertrand and the Blondes, J.-J. Morac
Carmen Was a Virgin, Michael Storme
Curtains for Carla [Michael Storme]
Death for a Doll, Spike Morelli
Honey, Hold That Scream, Tony Angelo
Hot Dames on Cold Slabs, Michael Storme
Make Mine a Shroud [Michael Storme]
Midnight Sinner, Paul Renin
My Life is My Own, Jules-Jean Morac
Pick-Up Girl, Roland Vane
She Who Hesitates Paul Renin
Sorry for You, Beautiful, Gene Ross
This Way for Hell, Spike Morelli
Thou Shalt Not, George Griffith
Two Smart Dames, Gene Ross
Wedding Night, Paul Renin
White Slave Racket, Roland Vane
On some covers the British price is partly overlapped by the American, as if the latter was added when the book was reprinted n the States.
Note 4: Ricky Drayton and Co.
I was delighted to hear from theatre practitioner and visual artist Luci Gorell Barnes about her father Michael Barnes (1925–1982), who wrote forty or more junglies as Ricky Drayton, Frank Hanson, Karl Medusa, Johnny Cello, Max Clinten, Hyman Zore, Whitney Brown, and himself and later went into film work. The following recollections come from her e-mails.
Dad said that the books each took him 10 days to write. Some of them got translated into Spanish, and because it wasn't worth changing pesetas into sterling at that time, he and Mum lived in Spain and Morocco for 6 months on the proceeds.
He worked as a journalist before the pulps, and my Mum was the editor's daughter. I think he went into films via advertising, and did a lot of work for the Children's Film Foundation and training stuff.
I don't remember him being a film buff. His mum was the actress Zoe Palmer who did silent movies, you can Google her filmography, and some of her films are held at the British Film Institute.
I remember my sisters and me finding some of the books in the attic and we read them (a bit shocked) in our adolescence!! I don't know where those copies are now and would love to get hold of another one.
I don't remember hearing that he wrote under another name. He said he chose Ricky Drayton because the toilet paper they used was called Drayton!
I am amazed by that bibliography you sent me, it was great to see it. I didn't realize he'd written so many. His dad wrote poetry.
Dad was in the navy in the war, on a mine sweeper.
I spoke to my mum the other night. Interesting to talk with her about this stuff. She talked about their time in post war Spain - they were there in 1952. She said it was incredibly poor and most kids did not have shoes. Dad's literary agent didn't have papers and so he led a weird life in which he spent as little time as possible in public spaces for fear of being arrested. They were paid in cash and Mum said she kept the money on her at all times. I didn't ask where!!
They spent a month in Ibiza where Dad wrote another book so they'd have some money to come home to. She described their ferry journey there from Spain and said they slept on deck, under the stars.
She said Dad also wrote under the name Whitney Brown and she has a copy of And So to Eternity in that name. [Al Hubin erroneously attributes it to John Russell Fearn. Well, nobody's perfect.]
She said he socialized with another pulp writer—a woman called Dale—she couldn't remember her last name. [JF: Google gives us a movie-writer Dail Ambler born in 1925. Dail Ambler was also the pseudonym of Jungle novelist Betty Williams, 1919–1972.]
The books were also translated into Swedish.
My dad having been in the navy was quite a deal for us kids. I remember going on a ferry to Ireland when I was about 4. I was in a cabin with Dad and 4 of my sisters (I eventually had 5) were with Mum in another cabin. It was rough and they were all seasick but Dad and I weren't because he was a good sailor having been in the navy.
It's good to be reminded that being able to earn a living from one's writing, back in those still barely post-wartime-austerity years of diminished options and frustrated expectations, could be exciting, particularly if one could get out of Britain, especially to sunshine lands adjoining the Med. Which wasn't easy to do, since as late as 1953 there were draconian currency restrictions on what you could take out with you.
America, that land of hope for innumerable refugees, was still slowly vetting applications for admission to ensure that subversives and indigents weren't admitted. Gian-Carlo Menotti's poignant opera of exclusion The Consul appeared in 1950.
Note 5: British Westerns, ca. 1946–66
I
Here, culled principally from ads in the Carson/Logan/Wayne novels and the British Library online catalogue, are some names, a number of them of them pseudonyms, of Western writers from the late Forties through into the first half of the Sixties who were or may have been British.
Anders, Webb,
Anson, Nat [N. Wesley Firth]
Austin, Brett
Bowie, Jim [Victor Norwood]
Brady, Rod
Carson, Lance
Cloos, Bert
Conroy, Richard
Cross, Polton
Daniels, John S.
Ellison, Earl
Elston, Allan Vaughan
Ermenwein, Leslie
Fearn, John Russell
Fingal, Martin
Floren, Lee
Flynn, T.T.
Foden, Frederick
Ford, T.W
Foster, Rick
Glynn, A.A.
Haines, Jackson [Norman Firth/ N. Wesley Firth]
Hanson, Vic J.
Hayes, Timothy
Hunter, John,
Hutton, W. Richard
Landsborough, Gordon,
Logan, Bryn
Lehman, Paul Evan
McCracken, Ike
Morgan, Dean
Newsom, Ed
Nolan, James Vincent
Paine, Lauran
Raine, Mac [N. Wesley Firth]
Ryland, Tex [Stephen Frances]
Sclanders, Doorn
Shott, Abel
Smith, Lew
Story, Trevor Jack
Strong, Zachary
Turner, Len
Wade, Hamilton
Waldo, Dave
Watson, Will
Wayne, Clinton
Weston, Clay
II
Replying to a correspondent who said that a character in one of his SF tales "reminded me strongly of Charles Bickford in 'The Gangs of New York'. The role was practically identical. Was it coincidence … ?" John Russell Fearn said, "Unquestionably 'Lunar Intrigue' was based on 'Gangs of New York' and No. 7 was Bickford himself. Have you never seen a film and reinterpreted into science fiction? Here is the secret of fast writing …" Subsequently he said of another story, from 1938,
Here are the films from which it was taken… "Earthbound" (Wyndham Standing, 1922); "From Dusk to Dawn" with Florence Vidor (a honey of a telepathic and dual-personality film in 1926); "The Outsider," Bernard Goetzske, in 1924 (spiritualistic stuff very well done); "Atlantide" (forget artists and dates); the recent "Man Who Changed his Mind," Karloff; "The Lost City," 15-episode serial with Juanita Hansen and Geo Cheseborn (a film years before its time by the way and ranging around 1921); and "San Francisco."
(Philip Harbottle, The Multi-Man; A biographic and bibliographic study of JOHN RUSSELL FEARN (1908–60), 1968, pp.4–5. I have regularized Fearn's punctuation.)
Presumably the same kind of thing could go on in the writing of Westerns.
III
I'm beginning to think that I'm not going to achieve any certainty about authorship. But maybe it doesn't matter if there aren't obvious differences. In any event, the handful of titles that I've been able to acquire, in addition to those by Lance Carson, Clinton Wayne, and Bryn Logan, suggest that one shouldn't be in a hurry to write the genre off. They're mostly not third-carbon re-doings of movie themes, especially not the progression to the culminatory Main Street duello.
The covers are less enticing than those of a lot of Toughies, maybe because it's hard to fit blondes in negligees into gunfights. Which may be part of the appeal if you enjoy Westerns. Here, in no particular order, are the titles that I've read since those in Westerns.
IV
Zachary Strong, Outlaws Against the Law-Badge (Swan, London, n.d.)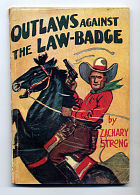 The cover is cheapie and print and margins so small that the book averages about six hundred words a page. But in fact it's a lively and ingenious narrative in which cowpoke Larry Day, escaping after being sentenced to hang for a murder he hadn't even heard about, is in a car accident (yes) which leaves him identified as rich young rancher Gary Elliott, a look-alike who had in fact committed the murder, and whom the sheriff pursuing Lary had shot in the belief that he was Lary If you see what I mean.
Claiming amnesia, Lary now has to cope with (a) bitter ranchers bent on destroying Elliott for his ruthless land-grabbing, (b) ruthless allies and henchmen of Elliott who still have the momentum of his predations, and (c) individuals who have their doubts about his identity, including a decent doctor who knows that he doesn't have Gary's body, a nice woman with whom he's into a relationships that she couldn't have had with the real Gary, and, near the end, the revenge-seeking father of the girl whom Gary murdered. As for the Law, it's a toss-up as to whether he'll be hanged as Lary or Gary. So, as he tries to preserve the masquerade while figuring out and subverting Gary's Machiavellian game-plan, he's jinking through a minefield, in a narrative rich in chasing, ambushing, betraying, and miscellaneous gunning. It's all good un-clichéd entertainment, with a nifty quick resolution of the problem of the illegality of the agreements that he signs as Gary.
Abel Shott, The Renegade Kid (Skeffington, London, n.d.)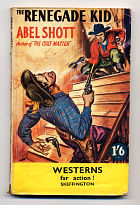 Plenty of up and down, and back and forth, and bang-bang, and plotting and figgerin', in mostly rugged terrain. Honorable outlaw, the dandyinsh Silver Kid, aka Solo Strant, hunted by Marshal Max Reed for a killing he didn't do, teams up with faux-gentleman crook Pretty Floyd Chase, while trying on the side to discover who's really behind the serious criminality in the area and clear his name.
Odd terms, some of them familiar words used differently.
By grab, handlope, proddy, orey-eyed, lobo, rodding, hit the leather, gut-hooks, concha, gun-tiger, boogery, scissorbill, dew-claws, trigger-slammer, hogleg, windy (noun), tooth-chawed, pelican, badge-packer, kak, slicker-than-slobbers, jaw-jamming, brush down your hackles, chunkhead, skallyhooting, a-sparking, hairpin, slow-withering.
Had actual author T.W. Ford known the region or simply, on whichever side of the Atlantic, owned a good glossary of American slang?
J. Vincent Nolan, Trail to Tombstone (Fiction House, London, n.d.)
Starts out as a near-replay of My Darling Clementine. But Clementine, whom Doc Holiday has left back East, doesn't appear, nor is his consumption conspicuous, and Pop Clanton is away on a trip, and departures from the movie increase. Doc operates (successfully) on Virgil Earp, not Chihuaha (here Nuala), after a four-page hand-to-hand fight with Clem Clanton. Antagonism culminate in a wild shootout in town by a lot of characters, and Doc rides off at the end, abandoning Naula in the questionable hope that she'll transfer her devotion to Virgil.
W.H. Fear, Gun for Hire (Spencer, London, 1958?)
The two cowboys on the cover have no connection with what's inside. The novel's about mountain men and fur traders back before the Civil War, with no hints of its being in the making.
Crack-shot Lon Blackman, seriously down on his luck, acquires one of the very rare new Colt six-shooters and allows former buddy Walter North to talk him into becoming a gunslinger for the monopolistic Missouri Fur Company, who send him off in a team under pitiless Henry McCracken to "discourage" trappers who've been trying to dispose of their furs for more than the pittance paid by the company. The resulting cruelties sicken him, and he escapes into the hills as McCracken's Indian allies get ready to burn him at the stake. His campaign against McCracken's gang escalates as more of the Company's victims and enemies join him. He starts his own company, and the Company's fort is destroyed by Indians on his own side after cold-eyed visiting Company bigwigs have, as they think, got him in their power.
Frederick Foden, Broken Gulch (Sabre, London, 1962)
This is nothing much. Chet Laker, on his way to visit innocently with old friend Seth Holt, comes upon a coach-wreck and what looks the kidnapping of passenger Claire Trevoy. He spends most of the rest of the novel arguing, sometimes at gunpoint, with lawmen and others who think that he and Claire are part of Seth's outlaw operation and involved in the disappearance of fifty-thousand dollars in gold. Really just a Who's-doing-it? stretched. Foden was better as Brett Vane and other toughies in the Jungle.
John Russell Fearn, Skeleton Pass (Trojan, London, n.d.)
This is nothing much either. At the outset a coach carrying $200,000 in gold is buried under an avalanche started by a prospector's careless blasting. Fifteen years later, ranch-daughter Flora Mackenzie talks visiting Dick Crespin and faithful Indian friend Black Moon into going off with herself and feisty Aunt Belinda to try and find the coach. Believing that they know the location, Mexican outlaw Vanquera sets them to work for him, with painful deaths awaiting them if they delay. (He's already tried a little torture on Flora.) He ends up falling from a height, leaving Flora and her father with his recovered $200,000 and a mine-to-be.
I don't know why a locomotive engine dominates the cover.
Fearn, who used fourteen pseudonyms, wrote a lot of books and apparently is best reputed for his science fiction.
I see that the book is copyrighted by P.J. Harbottle.
T.W. Ford, Redemption Trail (Swan, London, n.d.)
Handsome arrogant Dana Rank, boss of the imperially expanding Slash-R ranch, is injured in a coach accident and has his hawk-like nose smashed by his segundo Will Keene, who's appropriating the ranch. Unrecognizable by the authorities, and rejected by fiancée Lucinda, who marries Keene, he joins under another name with the enemies of Slash-R, particularly young rancher Maury Lewes and hired gun Andy Beaker, the latter figuring out after a bit who he is and extorting $5000 in hush-money. Both the re-shaped Slash-R team and the Rank-haters want him dead over his own name. But at least new schoolmarm Elvira Hill has seen through to his real and improved self and helps him.
John Russell Fearn, Thunder Valley (Wells Gardner Darton, Redhill, Surrey, 1948, hardcover)
Brad Morrison arrives in Thunder Bend looking deadbeat and wanting to do some prospecting. Jeff Willard and prospector "Old Timer" are friendly. Rancher Black Joe Rutter is not. Brad is in fact a marshal sent by the authorities in Drew City to investigate the smuggling of unregistered gold. Brad, Old Timer, and singer Betty Tarrant hunt for the mystery mine. Turns out that the operation is being run by beautiful Nariza, a "pure Mexican Aztec," who tries to entomb Brad in the mine and burn Betty alive.
Wells Gardner Darton hadn't been put out of business by the heavy fines levied six years previously for their publication of Lady—Don't Turn Over and the remarkable Road Floozie.
Listed on the back of the dustcover are Westerns by Clem Edmunds, Bill Watson, Tom J. Hopkins, Abel Shott, Frederick Bechdolt, Chuck Martin, Charles Stoddard, and Edward Churchill.
You know, given that this was only three years after the end of the War, and with tight currency restrictions, it would seem natural to have used home-grown authors. Fearn and Churchill, certainly, were British.
Jim Bowie, Colt Country (Scion, London, 1952)
This one surely has to be British.
In Bonanza Platte, Colonel Devereaux and his band of ex-Confederates can't get their silver ore (a Southern gennum mining?) smelted because Yankee Nate Emerson, who lost two sons in the War, won't let them use his ore smelter. Attempts at sending it elsewhere are bushwacked.
Enter handsome, slim, steel-and-leather Smoky (!) Stover, trick-shot display artist, who tangles in Phoebe's saloon with big wicked stubble-chinned crackshot Travis and is actually ex-Captain Stover, whose brother was killed in one of the bushwackings (organized by Travis). He's also (our hero?) wanted by the Army for fifty thousand stolen dollars!,After some this-and-that, including Travis murdering Nate after Smoky persuades him to open his plant to Devereaux, Smoky and Devereaux's miners occupy the plant and for ten pages fight off a furious attack by Apaches (?), followed up by Travis and his gang, with the U.S. cavalry turning up when they're almost out of ammo.
But that's not all, folks. Travis is after the stolen dollars himself, and Devereaux's gutsy young son Len intervenes, bang-bang, on Smoky's side, Smoky being surprisingly incompetent when it comes to entering rooms without checking to see who's standing behind the door. Smoky is no John Wayne, though not becoming Jimmy Stewart as Destry.
He can shoot coins from between a saloon girl's spread fingers at forty (!) paces. But in one of the several fights with Travis and associates we have:
Smoky swung a murderous right that had death in it. The savage swipe spread Travis's nose across his face in a bloody smear, and Smoky leapt after him, only to trip and sprawl as Conrad fiipped a chair with his boot directly into Smoky's path.
Smoky howled with the pain of scraped shin bones, and the chair splintered as he collapsed across it. Before he could get up, Conrad had stepped in with swinging gun, and this time the gunman struck true.
Subsequently,
Smoky looked round wildly. "Kill me and you'll never get the money," he said. "I know—"
Also,
"Out of shells, Travis?" he called mockingly. "Mebbe you'd like some of mine. Don't worry—yuh'll get one of them anyway."
Slim, handsome Western heroes do not howl, mock like that, or look around wildly. Burly hirsute Travis, on the other hand, is every bit as vicious as one could hope for in a villain.
What with the ease of disposing of bodies, the weakness of the Law, and the wide spaces in which no one will hear the cries and groans of the tortured, I wonder whether villains may not be more villainous in Westerns than in Toughies?
Clay Weston, Boot Hill (Modern Promotions, N.Y. 1950)
Sixteen-year-old schoolkid Red (Redman) Paine is hassled at school because his dad is outlaw Big Red Paine. When Paine is killed, Red, anxious to go straight, is used as cheap labour by sour uncle John Groot, taken on as innocent companion by (un)reformed outlaw Ed Chess, savagely beaten in jail by old outlaw-hater Jud Tentrus, given a job as deputy in Red Hat by Sheriff Lott, allowed by Lott to get away under a cloud, and then framed for a jailbreak organized by Lott.
Up till then the pattern has been rather leadenly mechanical, a series of small episodes in which Red tries in vain to live down the stigma of being Big Red's son. Things pick up a little after he hooks up—an outlaw now himself —with likable Laughing Bill Dornan and Doc Sills, saves plucky auburn-haired Peggy Dana from being murdered in wide-open Bridger (domain of Sheriff Adam Blair), learns from her of a mysterious gang of Vigilantes turned bad, and, along with Bill, Doc, and Tetrus, who has turned up again, wipes it out, including its actual boss, Blair.
Red's a lightning-fast and dead-accurate shot, by the way, who can balance a cartridge on the back of his hand, draw his gun with that hand, and hit a spot at fifteen paces before the falling cartridge hits the ground. Glenn Ford does something similar in The Fastest Gun Alive (1956). After breaking into the Vigilantes' headquarters in a castle-like hacienda,
Tottering with weakness, half starved, helped up from the great bowel-like cellars of the place, men began to come slowly. Prematurely white-headed. Shielding their eyes against the sudden sunlight with clawlike hands. Some of them showing the signs of beatings. They pushed feebly out onto the porch, staggered down the porch to drop onto the ground. Some of them wept tears of joy. (152)
An interesting novel could have been built around that.
Among the rescued peace officers is brother John, not heard of since he exited from Uncle Groot's. Red and Peggy are tight. Red's back in from the cold.
Odd words, or familiar words used oddly:
Owlhooter, button, trigger-slammer, slicker'n slobbers, hogleg, button, by grab, smoke wagon, gun slick, gut hooks, drygulcher, pelican, orey-eyed. hairpin, lobo, a windy.
Were Clay and Abel Shott using the same glossary of regionalisms? Were they maybe the same person?
Chuck Larsen, Gun Barrel Aflame [n.d.]
I dismiss elsewhere the attribution of this to Harold Kelly. No way.
This shortish narrative of how Steve Martin (the, uh, Whistling Ranger) arrives in Paradise, Texas, with his new bride Jean and mysterious killings ensue of which he is suspected doesn't have a single fresh detail or turn of phrase in it anywhere. All is cliché.
There are also virtual "Western" impossibilities, like:
—a Ranger's word not being accepted by a sheriff who has no reason to believe that he's gone crooked;
—Martin's bullet hitting the muzzle of an opponent's revolver (OK, unlikely);
—a word written on dead men's foreheads in acid looking as though it had been hot-iron branded;
—Martin's prissy wife saying, "I'll make a gentleman of you yet if it's the last thing I do. Ranger or no Ranger, you're going to learn the way to behave. Now put those guns away and stop acting like a spoilt child";
—Martin slapping the dude baddy's face and then allowing the baddy time to knee and sock him.
There's also diction that I don't recall seeing in any Carson or Wayne novel, such as "batwings" (in Tinhorns of the Tilted 'K' the term is "swing doors"). "Honest Injun," "face fungus" (beard), "salivated" (murdered).
At least we can confidently infer from the diction that this is a genuine product of the British imagination.
V
There's nothing in these pages as good as the good passages that I quote in Westerns—no stretches of memorable lyricism or acute psychological insight.
On the other hand, there's nothing as bad as the bad passages. And none of the books is simply an excuse for showing men in big hats killing one another with revolvers, while wimpy women try to hold them back.
But wait, another has come in.
VI
Wade Hamilton, Cougar Basin (Arcadia House, N.Y. 1953)
A lovely clean hardcover in near-mint dust jacket.
For a bit there doesn't seem to be enough going on. The homesteaders in Cougar Basin are upset because a threshing machine had been wrecked. And young Cal Bowman, vendor of farm equipment, doesn't think much of their keeping on coming back to it. Even though there had been an explosion. But after a bit you realize that this is the narrative, the troubles these ten not particularly interesting farmers are having in this valley to which Bowman, encouraged by the railroad, had attracted them. To the serious annoyance of several cattle ranchers.
It becomes Job-like. There's been a serious drought. And Cal has made the mistake of being the one who keeps up payments to the bank. And he can't get a bank loan. And heavy rain comes when it isn't wanted. And a sabotaged bridge collapses as a wagon and team of horses passes over it. And some farmers talk of quitting. And by now we're getting to know who's behind it, in a plot about land deals too complicated for me to follow, but obviously credible. By the time the principal predator is coolly talking about setting fire to the barn where the painfully gathered grain is stored, one wants to say, that's enough, Cal is having to bear too much, without discernible hope of relief. Except that one major rancher does slowly start shifting, or so it seems, this being a situation in which a lot of figuring goes on about what someone may really be up to. There is even some quotable prose in the ten-page account of one of the arsonist on his horse after they've set the fire and been shot at as they rode away.
Something warm was running down his side and he knew, dimly, it was blood. His blood, too. That thought, for some reason, seemed remote, distant. It did not seem even to belong to him.
"Grimes," he said.
The words were a croak, nothing more. They seemed to come from a voice that did not belong to him, just as this pain—and this warm sensation—were not a part of him. From somewhere he heard the thud of hoofs, and these hoofs were running out, falling into the rainy distance. (180)
VII
Basically the Westerns here seem to be about coping with unfairness, restoring order, acquiring property, getting married, and settling down. The Toughies, in contrast, are preponderantly about characters who don't own or want tangible property and aren't interested in marriage. There were no divorces in Westerns, were there?
Jim Bowie, Red Hellions! (Scion, London, 1952)
Reading without maps can be risky. You no sooner think you've got something figured out than something else comes along to upset things.
The margins are wretchedly narrow and the tiny print under-inked. But here Jim Bowie is firmly in control of plot, characters, textures.
Brad Corrigan and buddy Red Burnell, with a pouch containing the results of successful prospecting, have just eluded Comanches and been picked up by a train carrying,miners, cattle men, drifters, clerks, labourers, drummers, all heading for the wide open railroad towns further West, a sweating unwashed crew, gun-hung and for the most part toting broad-bladed bowie knives. The gamblers and drummers favoured small derringers, while nearly every man had a rifle of some sort propped within reach.
But wait. Within a short while the train has terrifying jumped the rails, the coaches are wrecked, and it's with great difficulty that a few of the passengers, including Brad and Red, are able to drag themselves out into the night and hold off, with insufficient weaponry, the Commanches who are scalping and massacring the other surviving passengers.
The slippery, sweat-stinking body of the Indian twisted like an eel, but the point of the blade got him in the belly. He shrieked as the Texan ripped upward, then crumpled as the blade slashed again, this time to his pounding heart. That's just for starters. The main action is in and around Buffalo Flats, a town under the fist of Black Bart Drogan, who Corrigan, after knocking him out and making a deadly enemy, learns is now the husband of the girl he'd thought of as his fiancée. Drogan and his killers hang, yes, hang second-hero Red, having failed to extract from him the location of their gold find. Fortunately there are good guys for Corrigan to link with—ageless "breed" Pawnee Bill Fogarty, taciturn but competent Doc Sharrett, huge genial Mike O'Hara, foreman of the crew pushing the railroad westward, who speaks acceptable phonetic Irish, and has to cope with workers exasperated with receiving no pay for weeks.
The reason for which is the sabotaging, under Drogan's aegis, that we encountered at the outset.
There's good gunplay and hand-to-handing. Corrigan kills the three killers who ambush him when he comes upon Red's suspended body ("his protruding tongue swollen and black"), aids Mike in a donnybrook with his work crew, joins Pawnee Bill in a buffalo hunt to feed the railroaders, is with Bill when they come upon the remains of a recent Indian massacre.
Two of the men were middle aged, the other just a boy. All three had been scalped, and the boy's face showed signs of a beating. The woman lay starkly nude, and her arms and legs were fastened to pegs with rawhide. Her staring eyes were distended with horror, and there was a bullet hold in the side of her head. Her scalp had been lifted so clumsily that tufts of golden hair clung in places to the raw wound.
With such motivators things build to all-out war between the railroaders and Drogan's gang after a document shows that he's behind the sabotaging.
Young Elvira, whom Corrigan rescued from the train wreck and whose father, here on a visit, is a U.S. Senator, will build a happy future with Corrigan, the new U.S. marshal after the clean-up. Is the book known by aficionados? Will it ever be reprinted? It deserves to be.
Or are there lots of others as good?
Is it British? American?
Inside the back cover are ads for Westerns by Jack Byrne, Cliff Campbell, and Anson Piper.
My guess would be British.
Note 6: Gangster novels
In The Trials of Hank Janson, Steve Holland reports that:
During 1950 Scion debuted a whole mob of Gangster novel bylines, including Al Bocca, Sammy Coburn, Ross Angel, Brad Shannon, and Danny Spade. The spearhead to this new line-up was Duke Linton. (79)
I wish I had a clearer sense of the genres in the Fifties, which I take to consist of novels that are primarily about the doings of gangsters in gangs. I am particularly frustrated by the unavailability of any of the thirty-one novels of Donald Cresswell writing from 1950 to 1956 as Ross Angel, which I recall seeing described as some of the toughest.
In any event, disreputable pseudo-American British gangster novels effectively began in 1939–41 with James Hadley Chase's No Orchids for Miss Blandish, The Dead Stay Dumb, Twelve Chinks and a Woman, and Miss Callaghan Comes to Grief and Darcy Glinto's Lady—Don't Turn Over, No Mortgage on a Coffin, Snow Job, You Took Me— Keep Me, and Yours Truly, Hoodlum.
The principal real-American gangster novels earlier were Red Harvest and The Glass Key, Little Caesar, Scarface, and Fast One, with Britain's Edgar Wallace making an impressive showing in On the Spot, adapted from his play about a Capone figure.
I comment on those and other titles in Violence Inc, 2.
Note 7. Mushroom Jungle Afterthoughts
NEW
I
Ethologists have shown us how the man-killing savagery imputed to wolves, gorillas, and giant cephalapods was in fact the projection onto them of human savagery. More recently it has been the turn of sharks. It's been pleasant learning that they're not mindless or malignant killing machines but creatures, some of them, with remarkable natural endowments and intelligible reasons for their attacks, usually in error, on humans. Well, apart, it appears, from Bull Sharks.
Recently I watched onscreen an admirer of sharks who'd found that stroking on the muzzle can send some of them into an instant limp (cata)tonic trance, and who wanted to try this, cageless and unweaponed, on Great Whites. He only managed to keep one under for a minute or two, because of its weight, but an even bigger female allowed him to hang on to her dorsal fin and be towed for a short distance.
It has been nice discovering how variegated the Mushroom Jungle actually was, in contrast to the dark site of depravity proffered by Richard Hoggart in The Uses of Literacy—I mean, with respect to what I've called the Toughies.
Maybe there are junglies out there that are more in line with the flesh-creeping made-up passage of sadism that Hoggart titillated his readers with. I'm particularly anxious to read something by Ross Angel, reputedly one of the toughest. But my present guess is that we've seen some of the most disturbing violences already in the Telos reprints of novels by Stephen Frances.
Like the atrocities in the shudder pulps, the intensity of the novels by James Hadley Chase and Darcy Glinto prior to the 1942 obscenity trial at the Old Bailey of Miss Callaghan Comes to Grief, Lady—Don't Turn Over, and Road Floozie, had obviously been a function of real-world violences and dreads.
The post-war British writers, Frances excepted, seem to me to have lacked that intensity, just as they lacked the crusading political ferocity of Mickey Spillane and the grappling with civic violences and corruption by returned veterans like John D. MacDonald, Kenneth Millar, Charles Williams, and John McPartland.
Even Harold Kelly (Glinto) wasn't ultraviolent after the war, his liveliest creative energies increasingly going into his pseudonymous Westerns, the best of which were almost certainly the best British Westerns—and probably some of the best Westerns, period.
And Chase had by then, if I may extrapolate from a few texts, developed a style of middle-range energy that enabled him to keep turning out novels without ever going deep or disturbing in the manner of No Orchids (unbowdlerized) or The Dead Stay Dumb.
II
George Orwell, who detested what he saw as the politics of No Orchids, while admiring the book technically, concluded his 1941 essay on naughty comic postcards, "The Art of Donald McGill," by saying, "The corner of the human heart that they speak for might easily manifest itself in worse forms, and I for one should be sorry to see them vanish."
As someone who dislikes formulaic noir pessimism and the assumption that if something's depressive it must therefore be truth-telling art, I'm struck by how undepressive, during those grey, depressing post-war years in a nearly bankrupt Britain, the great majority of the jungle books that I've gone through are.
It isn't really so surprising that there were so many of them and that they were so popular. They were entertaining. What, I wonder, did Hoggart think their purchasers and borrowers ought to have been reading to pass the time and keep their spirits up?
Personally, as a middle-class North London youth, I could never work up an interest in "serious" writers like Nigel Balchin or Rose Macaulay. But I had read my first thriller in 1937 at age nine— my father's copy of Sapper's best Bulldog Drummond book The Black Gang—and (see "Reading Thrillers" and "Quickies") never looked back.
III

1929
I would guess that before the War, the kinds of working-class readers who later devoured the junglies would have been reading that curious large-page tuppeny weekly The Thriller, each number a whole novel, and (as I did during the War) the Saint novels, and such American pulp zines as became available at newsagents like the one down the road from my North London school.
And that they grabbed with both hands the early novels of Chase and Glinto, which provided counter-energies to the initial formlessness of the War—the so-called Phony War—and then the fall of France, the fear of invasion, the Blitz, the escalating failures and defeats.
Despite the Battle of Britain and morale-building movies, the 1930s of unemployment and the appeasement of dictators weren't quickly forgotten, and the Establishment values in the thrillers and mysteries that I myself enjoyed weren't looking all that wonderful. "Jolly good show, chaps" and "Wizard prang!" were good for a raspberry (Bronx cheer) or a sardonic laugh.
And the post-war Junglies, drawing on "American" energies, provided suspense and, yes, escape during years of continuing shortages and low expectations, with the parameters of violence stretched because of what the War and reports of atrocities had shown as all too possible
By the time the glory years of the Jungle came to an end in 1954, British readers in search of their fixes had, to judge from the publishing record, become acquainted with reprints of MacDonald, Williams, McPartland, Gil Brewer, Bruno Fischer, Mickey Spillane, and others.
All of which, particularly given the superior craftsmanship of a number of the Americans, does not seem to me a history of cultural decline and barbarians at the gate.
Later, of course, there would be far more violent American thrillers—Rex Miller's for example—and more disturbing violences in nominally respectabe ones (the kind that got noticed approvingly in the New York Times), and more disturbing "serious" novels.
In Violence in the Arts (1974, but the first draft written in 1966), I tried to find my bearings in the revolutionary Sixties. Some sharks do bite, and there are other perils in the waters, such as blowfish and stonefish, or the stingray that killed poor Steve Irwin, who had survived so many encounters with dangerous creatures rightly understood.
Sidebars:
November 2008